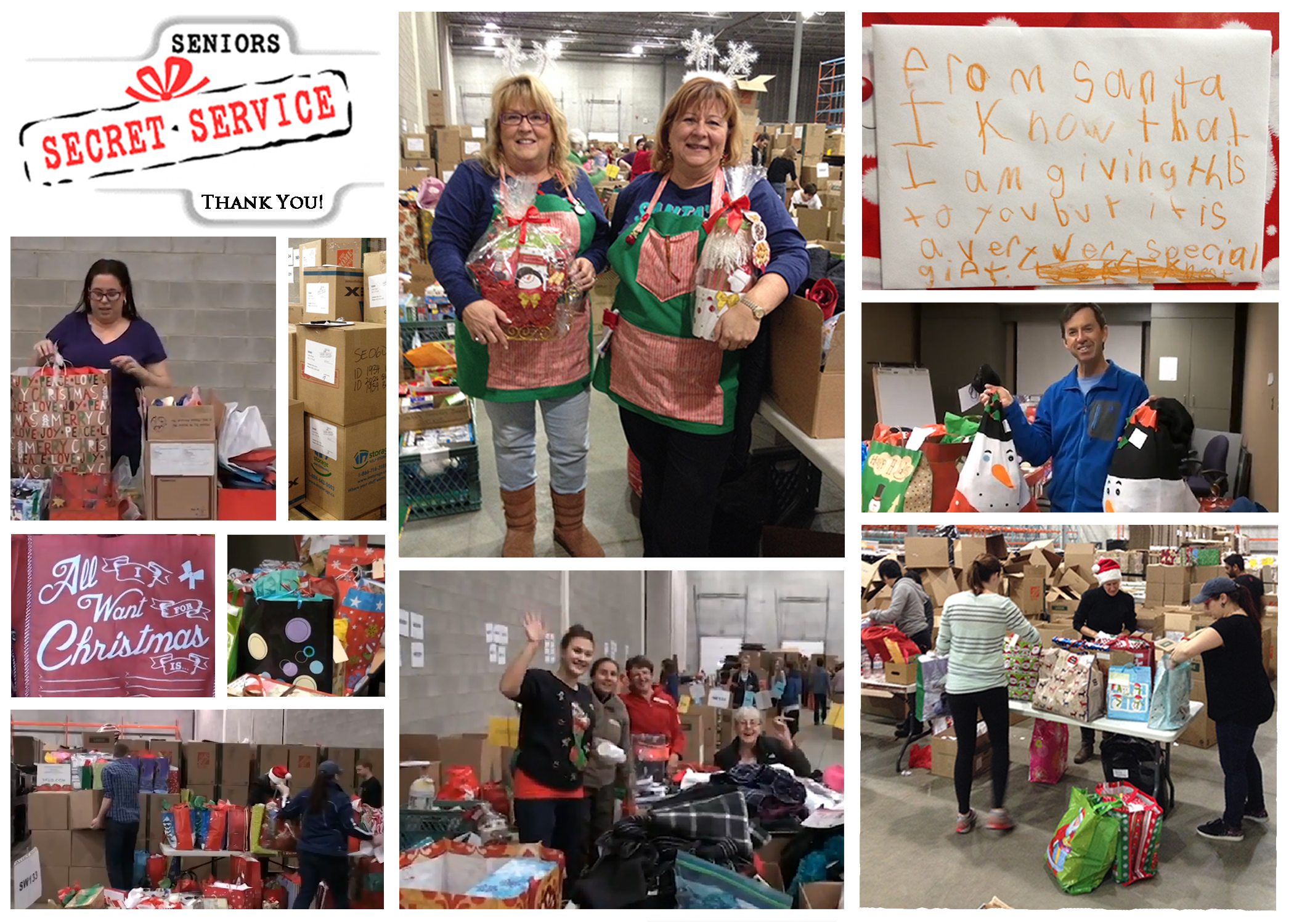 Thank you!
By coordinator In Blog, News On March 2, 2015
---
Dear Santas, Supporters and Volunteers,
Thank you for helping to ensure thousands of seniors in our community received Christmas cheer this year. We connected almost 3,000 lonely and isolated seniors with Secret Santas who fulfilled their Christmas wishes and made them feel special and appreciated. From William who wanted a stuffed penguin for Christmas to Linda who desperately needed a new winter coat, thousands of seniors unwrapped beautiful, thoughtful packages on Christmas morning thanks to your generosity.
Thank you to dedicated volunteers on the Christmas Cheer committee, who start working and planning in August to ensure everything ran smoothly.
We couldn't do this without each and every Secret Santa, from individuals to the corporate teams.   We would also like to acknowledge the huge amount of time and effort put forth by the corporate Santa coordinators. This is a huge job and we appreciate your diligence and good humor! Thank you as well to all the companies who donated money and items from Santa's wish list for us to use to make last minute gifts!
We are very grateful to Calgary Archives and its amazing team, which not only donated us much-needed warehouse space but used their organization's time and resources to accommodate us in many other ways. From supplying staffing and access to the warehouse to assisting us with unloading and organizing deliveries, they were always there with a smile to meet our ever changing needs.
We are thankful for the perseverance of our volunteers at Supreme Basics Office Supplies, West Direct and Sonic Courier. When schedules would change at the last minute and the weather took a challenging turn, they were never deterred and saw each and every pick up and delivery through.
Boxes!! Who knew boxes could be such a challenge. A huge thank you to the Calgary Food Bank, Westburne Electric and Ipex for donating boxes that were used to transport the gifts to our partner agencies this year.
The Calgary Police Service graciously accepted gifts during our gift drop weekend even in the midst of an early-winter storm which had them hopping with filing accident reports and attending to collisions.
We need to give a big shout out to all our volunteer "elves" that helped shuttle gifts from the police stations to the warehouse in treacherous driving conditions and to the more than 90 elves who showed up to help us sort and organize 3,000 gifts!
OPA! kept our volunteers well fed with a delicious catered lunch on gift sort day and Van Houtte provided us with a Keurig machine as well as coffee, which helped keep us going. Both greatly appreciated.
We are grateful for each and every person who donated gift items, knitted scarves, crafted cards or in any other way gave of themselves to help brighten someone else's Christmas.
This year we partnered with 87 community agencies and we continue to grow each year.  Thank you to all of the staff at our partner agencies who put a tremendous amount of work into making sure the seniors in their care were not forgotten. We saw a 10% increase in the number of seniors we supported this year. Without all of your support we would not be able to meet this increasing need in our community.
We have already received many thank you notes from grateful seniors and these can be seen on our Facebook page at https://www.facebook.com/pages/Seniors-Secret-Service/271264996276760
On behalf of myself and the Board of Directors, we thank you and wish you all the best in the New Year!!
Sincerely,
Andrea Brumwell, Program Coordinator
---